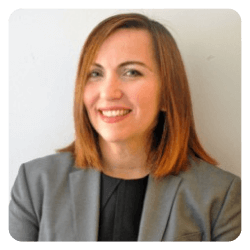 Gabriela holds a Bachelor of Science (B.S.) in Hospitality Management from The University of Central Florida and a Master's in Business Management (MBA) from Rollins College. Gabriela started her sales career on property with Marriott International in various roles ranging from catering, convention services, and sales.  During her tenure at Marriott International, Gabriela built and cultivated valuable relationships with key decision makers from a variety of market segments such as Corporate, SMERF, Business Transient, and Group Sales to drive room nights, grow market share, and increase REVPAR. As she continued to craft her sales career, Gabriela led local sales and marketing efforts for a Choice branded property where she was responsible for prospecting, qualifying, and closing corporate accounts, strategizing, and implementing market tactics to maximize revenues and increase market share.
​
After 12 years of gaining valuable knowledge in hotel sales and operations, Gabriela jumped to Global Sales when she joined Choice Hotels International.  She was responsible for increasing market share and managing relationships with global wholesalers, tour operators, and bed-banks such as Hotelbeds and GTA. In due course, she moved to global corporate sales where she was responsible for signing new corporate accounts and managing relationships with TMC/Consortia accounts to drive incremental room nights to over 6,000 hotels worldwide. Recently, Gabriela oversaw the implementation of a new RFP (Request for Proposal) system for all Choice brands and collaborated with global and national account managers in sales and pricing strategies to maximize revenue, present business cases, and increase acceptance of hotels in preferred travel programs.
With an understanding of the intricacies of hotel sales at the local and global level, Gabriela is excited to work with you to develop target strategies to boost business for your hotel.
​
www.linkedin.com/in/gabriela-ayala-gonzalez/
​
Education
ROLLINS COLLEGE
M.B.A., Business Management
UNIVERSITY OF CENTRAL FLORIDA B.S., Hospitality Managemen